Maintaining healthy and functional joints is a key aspect for a good quality of life. However, regardless of the measures taken, there is a probability of suffering from diseases that directly affect the joints. Among the most common diseases of this type is arthritis, which can cause intense joint pain.
Those who suffer from arthritis must find, in addition to the treatment of the disease, methods to reduce the pain it can cause. This is where TENS and EMS electrotherapy come in, as methods to relieve pain and decrease the chances of preventing arthritis. In the following article, we will teach you everything you need to know about arthritis and how to use electrotherapy to alleviate its symptoms.
How to use TENS machines to relieve arthritis or osteoarthritis pain?
The use of TENS units is widespread in physiotherapeutic treatment, thanks to their ability to numb the nerves and reduce the sensation of pain in patients. However, it is necessary to have the proper knowledge about the operation of the devices and the location of the ailment, in order to be able to apply an effective TENS therapy.
Where to place the electrodes?
Electrode positioning is an issue that requires some knowledge of the body's nerve anatomy to find the ideal location. However, in cases such as rheumatoid arthritis, which is the most common type, the positioning of the pads must be adapted to this generalized ailment.
To effectively treat pain, the electrodes pads should be positioned parallel to the joint, i.e. one above and one below. Since the level of pain is not equal from joint to joint, one of the best options is to focus on the most affected areas and progressively move to the less painful joints.
It is also important to note that areas such as the knee or hip can be treated by placing the electrodes on the lower back, so that the electrical impulses interact with the sciatic nerve, which is largely responsible for the innervation of the entire extension of the leg.
Which current to use?
The use of TENS treatment for arthritis pain focuses on the interaction of its electrical impulses with the endings of the nerve branches that innervate the joints.
For this purpose, the indicated current is 100 Hz, since it promotes the release of endorphins, while numbing the pain receptors in the affected joints, promoting relief in the patient that can last between 30 and 60 minutes after the session.
Best TENS units to treat joint inflammation pain
The use of TENS devices has long been given to treat joint ailments caused by different types of arthritis. For this purpose we can find a great variety of devices with different programming and oriented to different types of treatment. Among these, we can highlight the following machines:
a heat therapy function that will allow instant and complete relief of any type of muscle or joint ailment
, as well as complete muscle stimulation sessions thanks to its EMS function.
This versatile electrostimulation machine has 8 pre-designed modes of use, with 20 intensity levels that offer different types of massages oriented to treat different ailments. It is the best option to quickly achieve the relief and relaxation you are looking for, while getting rid of all kinds of ailments thanks to its heat waves and the wide range of intensity of its TENS and EMS electrical impulses.
and its heat therapy function, as well as an excellent complement for muscle development and strengthening
thanks to the EMS electrical impulses.
To get the most out of this powerful device, you only need 20 to 30 minutes of use per day. It has 8 predefined modes of use that can be combined with its 20 intensity levels to create a very complete range of massages that can reach the deep tissue of the treated area, generating a sensation of instant relief.
which has TENS electrostimulation technology for the treatment of any type of muscular ailments
, as well as a heat therapy function that allows to reduce deep tissue ailments in a very easy way, providing a sensation of immediate relief to the patient.
This versatile device can treat both chronic and acute pain in a safe and natural way, thanks to its ability to increase the production of endorphins in the human body. It has 20 intensity levels that can be adapted to your needs and its heat therapy function allows it to reach a temperature of 43 °C (109 °F). Its long-lasting pads have a fairly long lifespan, allowing up to 30 uses.
The Baldoni Neuromodulation brand offers its users a powerful two-channel electrostimulation device
that features TENS, EMS and a heat therapy function that makes it one of the most versatile units on the market, allowing you to get instant relief from any ailment while stimulating muscle growth.
Its dual channel function allows you to treat two different areas of the body simultaneously, it has 8 modes of use and 20 intensity levels to cover a wide range of massages to suit any type of ailment, and the package includes the electro stimulator with heat function, 2 pads, 2 clip electrodes and 1 USB charger.
The OSITO electric neck massager
is one of the most precise electrostimulation units available, with an ergonomic design designed exclusively to adapt to the neck area and apply TENS electrical impulses to the most sensitive areas, relieving any type of ailment.
It has 9 modes of use and 50 intensity levels that allow access to the deep tissue of the neck, to offer complete relief of any type of ailment. It can be switched between TENS and effective heat therapy modes very easily thanks to its remote control, and its high capacity battery allows an autonomy of several hours with just a few minutes of charging.
How to use EMS to strengthen muscles and prevent arthritis?
Although EMS machines are not recommended for the treatment of the symptoms of arthritis and osteoarthritis, it is a very relevant factor in the prevention of the same thanks to the ability to train the muscles adjacent to the joints.
In order to achieve this , it is necessary to know both the functioning of the muscular system of the body and the EMS devices to be used, in order to achieve an effective therapy.
Where to place the electrodes?
The location of the electrodes of the EMS device must take into account the type of training to be performed, so it may vary in relation to the muscle group to be worked and the objectives of the training. The muscle groups that are responsible for mobilizing and stabilizing the joints can receive a direct benefit from these therapies, indirectly favoring the prevention of arthritis.
For the greatest effectiveness of the therapy, each electrode should be positioned on the muscle groups above and below the joint to be worked. In the case of the shoulder, the ideal locations will be over the deltoid muscles, and the trapezius muscle, while in the knees, the electrodes are positioned on the vastus medialis, rectus femoris and tibialis anterior muscle.
What intensity to use?
While muscle training does not guarantee the prevention of arthritis, strengthening the muscles of the joints releases a considerable amount of stress from the joints, increasing their performance and reducing wear and tear.
To this end, the optimal current range to apply varies slightly between 60 and 85 Hz, with variations in frequency and discharge time providing variety in training and improving muscle fiber recovery.
Best EMS machines to prevent the onset of osteoarthritis or arthritis
The advantage that EMS machines bring to the prevention of arthritis lies in the strengthening of the muscles that stabilize the joints most vulnerable to rheumatic ailments. Among the devices that contribute most to this prevention, we can highlight the following:
which comes in a very complete kit with all the complements you may need to apply an efficient electrostimulation therapy
. It includes 12 clip-type electrodes pads, guide wires, battery, 1 carrying bag and 1 user's guide.
It also has 5 programs of use focused on different branches of physical conditioning: endurance, resistance, strength, active recovery and warm-up. Proper use of this device will allow you to reach your maximum performance with very little cardiovascular fatigue, and is highly recommended for fitness enthusiasts who frequently engage in competitions.
which is focused on providing the greatest possible comfort to the user, thanks to its compact size and its convenient application
, which allows you to control it very easily from your mobile device. It consists of 2 pods that use TENS technology controllable from the app, which is compatible for Android and Apple.
It has a rechargeable battery that can provide an autonomy of up to 7 hours per charge, 6 unique training programs focused on different branches of fitness to help you achieve your goals, and compatibility with your mobile for easy use. It is recommended for those physically active people looking for a compact, portable and natural way to deal with workout-related ailments.
HiDOw presents its XP-Micro 8 electrostimulator,
a versatile and compact electrotherapy unit that combines the best of TENS and EMS technologies with a dual channel function that allows you to apply treatment and stimulation to different parts of the body simultaneously. Its function is based on the emission of electrical impulses that block pain signals, and generate muscle stimulation to help develop strength and toning.
It has 8 preset programs and 20 intensity levels, along with a session timer function that you can set between 10 and 60 minutes. Its built-in rechargeable lithium battery provides excellent durability, and the package contains 1 XP Micro 8 electrostimulator, 1 set of large pads, 1 set of small pads, 2 cables, 1 power adapter, 1 user manual and 1 carrying case to take it wherever you need it.
as well as stimulate muscle mass to increase strength and definition
. All this integrated in 12 modes of use with different intensities and levels, designed for different types of ailments.
Its dual channel function allows you to treat multiple areas of the body simultaneously, and its easy to use mode allows you to set the massage modes without any problems. It has a timer that you can set up to 60 minutes, and an LCD display that allows you to visualize all the procedures very easily.
its 24 modes of use and 20 levels of intensity
with just a few touches to quickly adjust them to your needs.
One of its best features is its dual channel function, which allows you to set a different mode of use in channels A and B, and apply them in different sections of the body through the electrodes (2 per channel). Additionally, it includes a programmable timer to set the duration of the sessions and its compact size makes it completely portable and discreet, so you can take it with you wherever you go.
Video: How to place electrodes pads for arthritis or osteoarthritis?
Electrodes for shoulder
Electrodes for elbow
Electrodes for wrist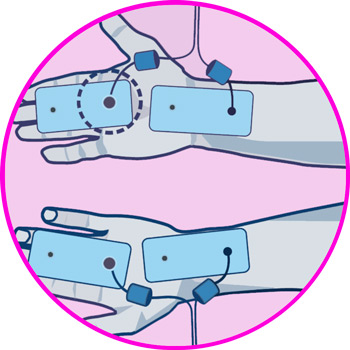 Electrodes for knee
Electrodes for ankle
More types of EMS electrostimulators and TENS machines that you should know about
What is arthritis and what are the causes?
Arthritis is a degenerative disease that involves inflammation and deterioration of cartilage and other joint structures such as the synovial membrane. This deterioration causes pain and inflammation in the joint, accompanied by reduced mobility, redness and stiffness.
This disease can have a wide variety of risk factors, among which we can highlight:

Genetics: there are more than 100 types of arthritis, some of which are hereditary, so it is necessary to be aware of the family medical history.
Age: people over the age of 45 have an exponentially higher risk of joint diseases such as arthritis, osteoarthritis or gout.
Gender: according to studies, women are more likely to develop rheumatoid arthritis, while other types of arthritis, such as gout, are more common in men.
Previous injuries: joints that have been affected by previous injuries are more likely to develop arthritis over time
Obesity: excess weight puts excessive pressure on joints, especially the knees, hips and spine are especially strained and can develop arthritis more easily.
What are the differences between arthritis and osteoarthritis?
Both arthritis and osteoarthritis are rheumatic diseases characterized by a progressive degeneration of joint tissue; however, each of these ailments has characteristics that distinguish them from each other.
Arthritis consists of an inflammation process that affects the synovial membrane, causing the synovial fluid to spread throughout the joint, causing friction between bones that leads to their erosion.
On the other hand, osteoarthritis is the constant degeneration of the cartilage, causing it to disappear completely over time, causing a direct friction between bones, causing intense pain and limitation of joint mobility.
Differences between TENS and EMS: Which is better for joint pain?
Degenerative rheumatic diseases are among those that most frequently become chronic, so the use of electrotherapy in this type of disorders is highly recommended.
Having said this, it is necessary to know the difference between TENS and EMS electrotherapy in order to know how to apply the correct form of therapy. Each of these forms of physiotherapy has its own characteristics.
Transcutaneous Electrical Nerve Stimulation (TENS) is identified by the following characteristics:

Applies low frequency electrical currents, ranging from 1 to 250 Hz.
Interacts directly with nerve endings to reduce pain.
Blocks pain signals, preventing them from reaching the brain.
It works as a treatment for symptoms of painful disorders, but not as a cure for them.
On the other hand, Electro Muscle Stimulation (EMS) is a method of therapy and physical training that has the following properties:

It is a training and physiotherapy technique.
It does not interact directly with nerves, but with muscle tissue.
It uses medium-high frequency shocks that create contractions in the muscles, between 70 and 150 Hz.
It is widely used in high-level sports training.
This information leads us to the conclusion that the best option for the treatment of pain caused by arthritis is TENS therapy, thanks to the fact that its electrical impulses numb the endings of the branches that innervate the joints affected by arthritis, decreasing the sensation of pain and generating a feeling of relief of variable duration.
EMS, on the other hand, is not a recommended option for treating pain caused by arthritis, since it is not a muscular ailment, and will have little or no effect on the affected joints. Moreover, the application of its high intensity electrical impulses may generate adverse results for the purpose of reducing the sensation of pain.
Contraindications to the use of electrodes and electrotherapy