The ankles are the most important joints for any athlete, but also one of the joints that usually receives the most wear and tear due to high impact activities, since they are the ones that support the greatest load of body weight.
That is why it is very common to suffer injuries and various ailments in this part of the body. Luckily, TENS and EMS electrostimulation can be of great help, which is why today we will show you how to use electrostimulation to relieve any pain or discomfort in the ankles.
How to use a TENS machine to relieve ankle pain?
TENS units are specifically manufactured to generate pain relief for athletes and people with muscle and joint ailments.
Among its uses and benefits we can highlight the following:
Raises the pain threshold: the frequencies used work directly on the pain receptors in the ankle located in the superficial peroneal nerve and the sural nerve to increase pain resistance during and minutes after the session.
Limits pain-producing cells: in this way, the cell groups around the ankle responsible for causing the sensation of pain are suppressed, resulting in a feeling of instant relief for the user.
Alterations in the reciprocal innervation: in this way a relaxation of the deltoid ligaments, the calcaneofibular ligament and the posterior and anterior astragaline peroneal ligaments is achieved, causing an analgesic effect.
Vasodilation: the currents applied on the ankle generate heat, which causes dilation of the blood vessels surrounding the joint, which in turn generates a local analgesic sensation, helping to maintain a feeling of relief even after the TENS session.
All these benefits mentioned above, make transcutaneous electrical nerve stimulation useful to relieve pain caused by injuries such as:
Tendonitis
Bursitis
Sprains
Arthrosis
Arthritis
Tarsal tunnel syndrome
It should be noted that transcutaneous electrical nerve stimulation is not a method of healing, but of pain relief, which means that by using it you are not going to heal the injury but reduce the symptoms. The latter can only be achieved by following the indications of a specialist, while TENS will simply make the recovery process more pleasant by minimizing acute pain and reducing recovery times.
Best TENS machines for ankle injury recovery
Here's a list of some of the best transcutaneous electrical nerve stimulation (TENS) machines and devices you can use to relieve ankle injury pain.
intended for the treatment of pain at precise points of the body
. Thanks to its size and the fact that it does not require any wires to operate, it is completely discreet and can be used anywhere, while traveling and under clothing.
Its efficient use of TENS technology allows it to block pain signals before they reach the brain, making it a safe method of treating ailments. It also has a long-lasting lithium battery and an energy-efficient function, which turns the device off every 20 minutes. One of the best devices on the market in terms of portability, discretion and functionality.
This electrostimulator combines TENS and EMS stimulation modalities
, consisting of applying low frequency electrical impulses to effectively eliminate the sensation of pain, while increasing the natural production of endorphins.
It has 10 pre-programmed massage modes and 20 intensity levels that focus on treating various types of pain, and a session timer function that allows you to set the duration of these between 10 and 60 minutes. Additionally, it has a lithium battery that allows you to apply therapy for more than 20 hours at a time.
The TechCare massager is a dual-channel electrostimulation device with a rechargeable battery
and a large number of functions dedicated to the application of TENS and EMS massages. It features an LCD display and various modes of use, along with a session timer, and an on-screen indicator of remaining battery time.
It has multiple modes of use and its A-B output channel allows you to apply two types of massage simultaneously, making it one of the most versatile devices available on the market. The package includes 1 control, 1 protective case for the TENS unit, 3 pairs of electrodes, 4 power output cables, 1 USB cable, 1 user manual, 1 plastic case and 1 belt clip.
which has TENS electrostimulation technology for the treatment of any type of muscular ailments
, as well as a heat therapy function that allows to reduce deep tissue ailments in a very easy way, providing a sensation of immediate relief to the patient.
This versatile device can treat both chronic and acute pain in a safe and natural way, thanks to its ability to increase the production of endorphins in the human body. It has 20 intensity levels that can be adapted to your needs and its heat therapy function allows it to reach a temperature of 43 °C (109 °F). Its long-lasting pads have a fairly long lifespan, allowing up to 30 uses.
with 8 predefined modes of use 25 adjustable intensity levels
, you can program it to fit your body's needs. Additionally, its dual channel function allows you to program more than one massage mode simultaneously to treat multiple areas of the body.
It has an interesting session timer function that allows you to adjust the duration of each therapy up to a maximum of 60 minutes. Its compact size allows it to be carried in your pocket, so you can take it with you from home to work, or on the road, and use it whenever you need it.
How to use an EMS muscle stimulator for the ankle?
As mentioned in previous sections, EMS is a training therapy in which a current of between 70 Hz and 150 Hz is used to achieve muscle contraction and stimulate muscle strength and elasticity. Therefore, it should only be used on specific muscle groups.
In the case of the ankle, EMS is not used because we are talking about a joint that is not composed of virtually any muscle, so a stimulation of this type would be sterile and even counterproductive if it is in a recovery process.
In the best case scenario, it would be used to strengthen and stimulate muscles responsible for mobilizing the ankle joint such as the tibialis anterior, extensor digitorum longus, extensor hallucis longus muscle and the peroneus anterior muscle.
In this way, benefits such as:

Muscle strengthening and toning thanks to the internal contraction of the muscles when using EMS currents.
Reduction of fatigue by reducing the oxygen consumption of the muscles by up to 16%, increasing their resistance to fatigue by up to 20%.
Improves muscle power when used long term by reducing the response time to accelerate the recruitment of fibers in the tibialis anterior and peroneus anterior when performing explosive movements involving the ankle as when performing a sprint in sports such as basketball, tennis, soccer or soccer.
Stops the loss of muscle tissue either by age, chronic injuries or sedentary lifestyle, offering a method of activation and muscle exercise for the elderly or people with disabilities.
Improves blood flow by up to 20%, as a result of vasodilation that will increase the capacity of the muscles to receive blood, which in turn will allow better oxygenation of tissues and maximizes the assimilation of nutrients, strengthening the muscles responsible for the mobility of the ankle to make them more resistant to injury.
Best EMS electrostimulators to strengthen the muscles around the ankles
We have already told you that EMS muscle electrostimulation will not help you to directly strengthen the ankles or any other joint, but it can help you to take advantage of the benefits mentioned above in those muscles responsible for mobilizing them, such as the tibialis anterior and peroneus anterior. To do this you can use some of the following devices:
which is focused on providing the greatest possible comfort to the user, thanks to its compact size and its convenient application
, which allows you to control it very easily from your mobile device. It consists of 2 pods that use TENS technology controllable from the app, which is compatible for Android and Apple.
It has a rechargeable battery that can provide an autonomy of up to 7 hours per charge, 6 unique training programs focused on different branches of fitness to help you achieve your goals, and compatibility with your mobile for easy use. It is recommended for those physically active people looking for a compact, portable and natural way to deal with workout-related ailments.
One of these is its function of 4 independent channels that will allow you to individually treat different areas of the body
. It has 24 massage modes and 20 intensity levels that allow for a wide range of ailment relief.
The Belifu electrotherapy device includes 10 reusable self-adhesive conductive pads and 5 sets of guide wires. The electrodes are coated with an adhesive layer that gives them perfect adhesion to the skin, and with proper care, can withstand a large number of uses before they need to be replaced.
since it combines in its compact size the most advanced TENS and EMS technology
, making it the number one option for the relief of ailments of any kind, thanks to the 14 predefined treatment programs available.
The compact size of the device makes it incredibly practical and easy to carry, so you can use it anywhere you like quickly and discreetly. It is FDA approved, so it is completely safe to use, and its LCD screen gives you a full display of all settings so you can easily adjust your requirements.
One of these is its function of 4 independent channels that allow you to individually treat different areas of the body
. It has 24 massage modes that allow for a wide range of ailment relief.
This amazing electric massager includes 12 reusable self-adhesive conductive pads and 3 sets of guide wires. The electrodes are coated with a layer of adhesive that gives them perfect adhesion to the skin, and with proper care, can withstand a large number of uses before they need to be replaced.
It has EMS muscle stimulation and TENS nerve stimulation capabilities
, dual channel function and its 12x2" electrodes are incredibly useful to cover a wide area of skin and reach all desired muscle groups.
It has 24 modes of use and 20 levels of intensity designed to provide different methods of relief for all types of ailments, by means of electrical impulses that stimulate the production of endorphins. Its lithium battery allows up to 30 hours of continuous use and its compact design, 1.2x4.8 inches, allows you to take it anywhere you want at any time.
Video: How to place electrodes pads on the ankle?
Electrodes for ankle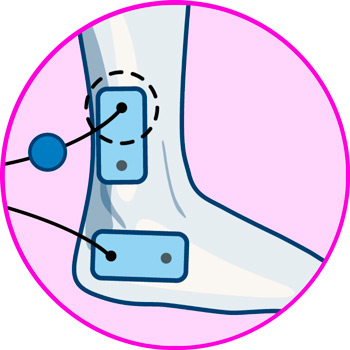 For ankle sprain: If you have pain in the inner side of the ankle, you should place an electrode on the head of the first metatarsal closest to the joint, and the other just on top of the astragalinus.
For Achilles tendinitis: If the pain is in the Achilles tendon, you should place one electrode at the point where the tendon joins the calcaneus, while the other electrode should be placed at the top of the tendon, where it joins the calf.
For the tibialis and peroneus: The first is the tibialis anterior muscle. The electrode is positioned in the middle area of this muscle. The second muscle is the peroneals, both the short and long peroneals, where the pads are positioned in the middle area of both muscles, to achieve a more uniform overall contraction.
For soleus and calf muscles: Lastly, we have the soleus and calf muscles. In this case, two electrodes are placed on the back of the calf over each calf, and another two on the sides on both sides of the soleus shown on both the inner and outer sides of the calf.
More types of EMS electrostimulators and TENS machines you should know about
Most common types of ankle injuries
The ankles are an essential joint in the motor skills of the lower body, basically in all high impact sports and daily activities we use them.
Therefore it is normal to suffer injuries such as the following:
Ankle sprain: is an injury caused by an incident that forces the ankle into an unnatural motion, which pushes the ligaments and tendons to the limit of their capabilities and tears them. This injury is classified in three degrees, being first degree when the soft tissues are stretched and swollen without further damage, second degree when the soft tissues are slightly or partially torn, and third degree when the ligament is completely torn.
Ankle fracture: it is an injury generated by an unnatural movement of the ankle, which in this case is so strong that it fractures or breaks one of the bones that make up the joint such as the base of the tibia, the talus (talar dome) or the fibula.
Tendonitis: injury generated by the wear in the ligaments or the Achilles tendon that are located around the ankle. Those that most often suffer such degradation are the deltoid ligament, the fibular calcaneus and the posterior and anterior astragaline peroneals.
Bursitis: it is the inflammation of the bursa of the ankle joint. This is in charge of storing synovial fluid to cushion the impacts and to avoid the friction between the bones that conform a joint, and when they become inflamed it is due to an excess of this fluid, generating an acute pain when supporting the foot or trying to mobilize the ankle.
Differences between TENS and EMS: Which one to use for ankle pain?
Transcutaneous Electrical Nerve Stimulation (TENS) is a technique used to control the nerve impulses responsible for generating pain. Different types of low or high intensity currents ranging from 1 to 250 Hz are usually used to increase the pain threshold, cut the pain transmitters and generate a sensation of relief in a localized area.
Muscle electrostimulation or EMS is a stimulation technique used to generate a contraction at a muscular level, for which a high intensity current is used to mimic the nerve impulses generated in the brain to contract or relax a muscle. This therapy is used for aesthetic purposes to increase muscle mass or tone it or to improve performance by offering a way to strengthen muscles outside the training schedule.
Knowing this, we can say that the correct therapy to relieve the pain of an ankle injury is undoubtedly transcutaneous electrical nerve stimulation or TENS, since it allows intercepting the pain transmitters in that joint. In addition, since the ankle is an area with a lot of hard tissue (bones, joint and ligaments), as it is not covered by muscle, it is more efficient to use this type of current.
EMS is contraindicated for the treatment of pain, and focuses more specifically on muscle training, a quality that is not very useful in the ankle, since this therapy only works in areas where there is abundant muscle tissue, such as the calves, pectorals, back and other similar groups. In addition, in the case of an injury that causes pain, it is best to maintain a certain period of rest, and the contractions generated by EMS disturb this recommendation.
Contraindications in the use of electrodes and electrotherapy