The human body is a precisely functioning system, with biomechanical systems designed to make the most of human physiology and obtain the greatest possible mobility. However, certain alterations in these biomechanical systems, which can be caused by injuries or diseases, can generate pain in different parts of the body, which have very different origins.
Due to this diversity, the treatments for each of these ailments vary according to their origin. However, a common point is the usefulness of TENS and EMS electrotherapy to mitigate the sensation of pain caused by most injuries and disorders when applied correctly. In the following paragraphs, we will teach you the most common types of injuries and their causes, and how to use TENS and EMS therapy to deal with the pain they produce.
What are the benefits of using TENS for pain relief?
The use of Transcutaneous Electrical Nerve Stimulation is one of the most useful ways to treat pain caused by most disorders, thanks to its direct effect on the nerves. However, this physiotherapy technique can offer a large number of additional benefits, among which we can highlight:
Increases resistance to pain
Reduces nerve activity responsible for pain sensation
Muscle relaxation
Increased spinal circulation
Improved blood supply
Best TENS machines for pain relief
with 8 predefined modes of use 25 adjustable intensity levels
, you can program it to fit your body's needs. Additionally, its dual channel function allows you to program more than one massage mode simultaneously to treat multiple areas of the body.
It has an interesting session timer function that allows you to adjust the duration of each therapy up to a maximum of 60 minutes. Its compact size allows it to be carried in your pocket, so you can take it with you from home to work, or on the road, and use it whenever you need it.
through which you can apply massages to relieve pain in a natural way
, as well as generate muscle contractions that increase the size, strength and tone of the muscle, all in a completely safe and natural way, stimulating the body's natural processes.
It has 24 modes of use and 20 intensity levels that can be applied in isolation to each of the device's channels thanks to its dual channel function, allowing different therapies to be applied to separate areas of the body. In addition, it has a session timer mode and automatic shut-off that will allow you to give greater efficiency to your sessions and make better use of the energy of its high-capacity lithium battery.
with an innovative 4-channel function that allows you to apply different types of massage to individual areas of the body
, increasing the effectiveness of electrostimulation therapy and delivering far superior results.
All its modes of use are FSA and HSA approved, making it completely safe for anyone to use. It can be operated and set up very easily. The package includes reusable electrodes coated with adhesive gel in 3 sizes: 2 units of 2x4 inches, 4 units of 2x2 inches and 2 units of 1.5x1.5 inches.
a perfect effectiveness when applying different electrical massages simultaneously
. It also has a large LCD screen that makes it especially easy to operate, so you can program your sessions with great ease.
It has 24 clinically proven massage programs, which are divided into 12 TENS therapy programs and 12 muscle stimulation training modes. It has a long-life rechargeable lithium battery that will give you a great autonomy of several hours of continuous use, eliminating the extra cost of buying replacement cylindrical batteries.
the most versatile and complete electro-stimulation device models on the market
. This is its massager that includes TENS and EMS therapy functions, together with a very interesting pulse massage function, which makes it the best option for treating pain and complementing physical training.
Its 60 adjustable intensity levels can be easily modified via the mobile app, and coupled with the device's cordless and compact size, means you can have constant access to full massage therapy whether you're at home, in the office or on holiday, as you can take the AccuRelief with you wherever you go.
What are the benefits of using EMS to prevent injuries?
In most cases, Electro Muscle Stimulation Therapy does not offer benefits when it comes to eliminating the sensation of pain, but it is possible to use it in order to prevent most ailments thanks to the strengthening of the muscular system.
In addition to this, we can list the following benefits:

Increased muscle activity
Increased endurance
Reduced risk of injury
Increased muscle elasticity
Increased muscle mass and strength
Promotes the elimination of toxins
Best EMS electrostimulators for injury recovery
which comes in a very complete kit with all the complements you may need to apply an efficient electrostimulation therapy
. It includes 12 clip-type electrodes pads, guide wires, battery, 1 carrying bag and 1 user's guide.
It also has 5 programs of use focused on different branches of physical conditioning: endurance, resistance, strength, active recovery and warm-up. Proper use of this device will allow you to reach your maximum performance with very little cardiovascular fatigue, and is highly recommended for fitness enthusiasts who frequently engage in competitions.
the most complete and versatile electro stimulators you will find. Brought to light by TechCare Massage
, this device combines the most commonly used electrostimulation technologies to treat different types of ailments. The TENS and EMS technologies allow you to relieve acute and chronic ailments, deep muscle pain and promote the rehabilitation and regeneration of muscle fibers.
It includes 24 massage programs in total, which are designed to treat a wide variety of ailments. Each of the modes has 4 different options to choose from, and comes with all the accessories you may need, from electrodes and guide wires to a user guide and an electrode positioning guide.
treating nerve and muscle ailments, as well as a great addition to fitness
. This is because it combines TENS stimulation technology with EMS technology, making it one of the most versatile devices on the market.
It has a 4-channel independent control mode, through which you can treat different parts of the body with different settings and intensities as required. You can select from 24 preset massage modes, each designed to relieve certain types of pain and produce an overall sense of relief.
One of these is its function of 4 independent channels that will allow you to individually treat different areas of the body
. It has 24 massage modes and 20 intensity levels that allow for a wide range of ailment relief.
The Belifu electrotherapy device includes 10 reusable self-adhesive conductive pads and 5 sets of guide wires. The electrodes are coated with an adhesive layer that gives them perfect adhesion to the skin, and with proper care, can withstand a large number of uses before they need to be replaced.
It seamlessly combines TENS and EMS electrostimulation technologies
, as well as a 4-channel function that maximizes the results of your workouts and therapies by allowing you to apply different types of massage to various parts of the body at the same time.
It has 8 customizable massage modes, which are divided into 5 TENS therapy modes, and 3 EMS stimulation modes, which together with its pulse rate adjustment function, make it one of the most versatile electrostimulation machines you can find. It works with 4 cylindrical AA batteries that give the device great portability and allow you to take it wherever you want.
Video: How to place electrodes pads to relieve pain during injuries?
Electrodes for foot
Electrodes for hands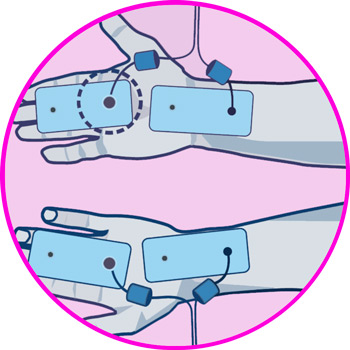 Electrodes for Core
Electrodes for back
Electrodes for arms
Electrodes for neck
More types of EMS electrostimulators and TENS machines you should know
Most common types of injuries that cause pain
Due to the multiple systems that enable motor function in the human body, injuries, diseases and disorders that can cause ailments can have a variety of origins. These origins vary depending on the type of injury and these injuries can be divided into four major groups.
Muscle injuries
Muscles serve the function of mobilizing and stabilizing the body, as well as providing the strength to perform daily tasks of any kind. Muscles are subject to varying degrees of tension most of the time, so depending on the type of activity performed, they are prone to different types of injuries.
Among the most common we can highlight the following:

Cramps: is an involuntary contraction of a muscle that causes pain, stiffness and a quite noticeable bulge. It is a very common condition in athletes and happens mostly due to lack of hydration.
Stiffness: it is a muscle injury of late onset that consists of the breakage of muscle microfibers that occur due to muscle overload. Its most common symptoms are pain and inflammation of the muscle.
Tears: caused by excessive stretching or contraction of muscle tissue, which causes a strain or tear in a muscle or tendon. One of the most common causes is muscle overload when trying to lift heavy objects.
Muscle contractures: is a continuous and involuntary contraction of the muscle, generating a sensation of pain due to the constant tension to which it is subjected. It is characterized by a reduction in range of motion, sensation of pain and post-injury stiffness and weakness.
Strains: occur when a muscle is subjected to excessive stretching that causes a tearing of fibers. It is a particularly painful injury and its most common causes are improper use of a muscle and muscle overload.
Contusion: it is a crushing of muscle fibers produced in a specific area, commonly due to a blunt impact. This painful injury may cause inability to move, bruising and swelling.
Joint injuries
Joints are the areas of the body designed to provide the maximum range of motion possible, in addition to being the main areas of shock absorption and stress when performing any activity, whether routine or competitive demand. It is for this reason that joints are very vulnerable to overload injuries or other types of disorders.
Among the most common are the following:

Arthritis: is the swelling and tenderness of the joints caused by the deterioration of the cartilage that cushions the friction between the bones that form them. It is a fairly common condition and produces pain, inflammation, stiffness and reduced range of joint mobility.
Bursitis: this disorder occurs when the synovial bursae, responsible for providing cushioning between the bones, become inflamed, causing pain, stiffness and swelling in the joint
Dislocation: these are injuries that occur when one of the ends of a bone is pulled out of place. It can result from falls or blows, and is very common in contact sports.
Sprains: is an excessive stretching of the fibrous tissue that connects the bones, producing inflammation, pain, bruising and even tears, depending on the severity of the injury.
Osteoarthritis: is a rheumatic disorder that erodes joint cartilage, causing stiffness, motor limitation, pain and inflammation in the joints. It differs from arthritis in that the main symptom is inflammation, while that of osteoarthritis is wear and tear.
Gout: is a form of arthritis that, in most cases, affects the big toe joint and is caused by the formation of urate crystals in the joints due to excess uric acid in the blood.
Bone injuries
The bony apparatus of the body is responsible for functioning as a framework, maintaining the structure and morphology of the body. It supports the weight of the other systems of the body, and has very vulnerable points to certain types of injuries. Among the most common are:

Dislocations: it occurs when one of the ends of a bone separates from the cavity in which it is embedded, making movement impossible and generating a marked sensation of pain.
Fractures: fractures occur when a section of bone breaks. Generally it occurs by direct impacts in the socket and its severity can vary from a fissure to an exposed fracture, in which the bone protrudes from the skin.
Sprain: a severe sprain can lead to a dislocation and even a fracture of the bones.
Neuropathies
Neuropathies are caused by damage to the peripheral nervous system, derived from accidents or diseases. Within these lesions we can find a classification of neuropathies that is governed by the different nerve branches affected.
These classifications are as follows:

Sensory peripheral neuropathy: translates as damage to sensory nerve branches in the affected areas, accompanied by a sensation of pain.
Motor peripheral neuropathy: the nerve damage is more focused on the motor branches of the nerves, reducing the ability to move the affected limb.
Autonomic peripheral neuropathy: occurs when the affected nerves are responsible for the control of involuntary functions. It can cause blood pressure problems, temperature imbalance, digestion and bladder control problems.
Peripheral mononeuropathy: unlike neuropathy, which affects several nerve branches, mononeuropathy is damage to a single nerve.
What is electrotherapy and how can it help relieve pain?
Electrotherapy has established itself as a very feasible method for the treatment of pain caused by injuries and illnesses, as well as a way to prevent them. However, this physical therapy modality is divided into two types that have unique characteristics and are applied for different purposes. These types are Transcutaneous Electrical Nerve Stimulation (TENS) and Electrical Muscle Stimulation (EMS).

Below, you'll see the difference between each, the characteristics that distinguish them from each other, and how their application helps in both pain relief and prevention of pain-causing injuries.
TENS
TENS stands for Transcutaneous Electrical Nerve Stimulation, and is defined as a physical therapy technique based on the use of low-frequency electrical impulses for the treatment of pain caused by various types of trauma, disorders or diseases.
TENS is characterized by the following properties:
The intensity of its electric current ranges from 1 to 250 Hz.
It interacts directly with the nerve endings of the affected areas to mitigate the sensation of pain.
Its impulses counteract the electrical impulses of the nerves that travel to the brain, preventing the pain from registering.
It is not a method to cure the source of the pain, but to mitigate the pain itself.
Its best feature, and the one that makes it an excellent option for the treatment of ailments of different types, is the ability of its electrical discharges to affect at a nervous level the pain receptors, so that, once the therapy is applied for a certain time and at the appropriate intensity for the type of injury, the patient is left with a feeling of relief that can last for several minutes after the session is over.
EMS
EMS is the name given to Electrical Muscle Stimulation. This modality of electrotherapy works as an alternative method of training and physical conditioning, which uses medium to high intensity electrical impulses to interact directly with the muscle tissue to improve its resistance, strength and elasticity.
The main characteristics that define EMS therapy are:

It applies high intensity electric shocks ranging from 70 to 150 Hz.
It does not interact with nerve tissue directly.
It generates contractions in the muscles or muscle groups worked, activating them and promoting the generation of new muscle fibers.
It is amethod widely applied in physiotherapy, especially in advanced stages of rehabilitation of muscle injuries.
The use of this electrotherapy modality is very favorable for muscle reconditioning after injuries, but it can also be applied to injury prevention. By using EMS therapy on various muscle groups on a regular basis, they gain strength, increased tensile strength and provide greater support for the joints, greatly reducing the likelihood of various types of injuries.
Contraindications to the use of electrodes and electrotherapy