In the second decade of the 21st century, muscularity and fitness gained tremendous importance; having a sculpted body is synonymous with beauty, success, discipline and above all confidence. However, today's working lifestyle does not leave much time to devote to this task, so many people find themselves at a serious crossroads.
Fortunately, electrotherapy can help to solve this problem. Thanks to EMS currents, you can sculpt and tone your muscles from basically anywhere, and all you need is a power outlet to plug in your muscle stimulation machine. If you want to know how to take advantage of this technology, read on to the end.
How to use EMS machine to achieve muscle hypertrophy?
As you have realized, it is perfectly possible to achieve muscle hypertrophy using an EMS electrostimulation machine. That's why below we are going to teach you the key aspects of this therapy that you should know.
Benefits
On its own, muscle electrostimulation is beneficial, but by using it to achieve muscle hypertrophy you can take full advantage of these benefits. Among the most important we can highlight:
Fatigue resistance: muscle electrostimulation reduces the oxygen consumption of the muscles, which translates into greater resistance to fatigue, allowing you to train at the highest level for longer.
Improves power: by reducing muscle fatigue, you achieve greater speed in the recruitment and activation of muscle fibers, which translates into greater muscle power as they will respond more quickly to the contraction stimulus.
You save time: by training with an EMS electro stimulator you can keep in shape from the office or while doing household chores, which saves you a lot of time going to the gym.
Resistance to injuries: by having muscles that are less fatigued and more powerful, you can be more relaxed as the incidence of muscle injuries will be considerably reduced.
What intensity to use?
For muscle hypertrophy, a frequency between 50 Hz and 100 Hz should be used. The exact number will depend on the size of the muscle to be trained, since the smaller the volume of the muscle, the less intensity it will resist. Therefore, when training small muscles such as biceps, triceps, deltoids or calves, a frequency of 50 Hz to 65 Hz should be used.
For larger muscle groups such as the back or legs, an intensity higher than 65 Hz can be used. However, it has been proven that EMS will be most effective when working locally, that is, when working each muscle individually rather than a broad muscle group.
Best EMS machines to gain muscle and build hypertrophy
Now that you know how to use your electrostimulation machine, you can choose from some of the ones we are going to show you below as they are the best options on the market.
It has 4 electrostimulation programs divided into 2 muscle strengthening, 1 recovery and 1 TENS massage mode
. Through this device, you can facilitate and improve sports performance.
It has a completely renewed design, with a waterproof silicone cover, an improved LCD screen, central navigation key and integrated lithium battery with a battery life of up to 8 hours of continuous use. The Compex Edge 3.0 will allow you to take your exercise routines to the next level.
will allow you to develop the strength, size and tone of your muscles
, along with gentle stimulation designed to treat all types of muscle and joint ailments caused by injury, fatigue or illness.
It has a total of 14 massage modes, of which 7 are TENS-type currents for pain relief, 1 mode for arthritis pain treatment, and 6 modes for muscle recovery and therapy. In addition, you can adjust the intensity to any of its 25 levels, and define the duration of each session from 5 to 60 minutes thanks to its timer function.
This combination results in a device that can be used to treat pain
caused by various diseases and injuries, as well as stimulate the production of muscle fibers to increase muscle volume, tone and strength.
It has 4 channels of operation, 5 modes of TENS currents, 3 modes of EMS stimulation; and 24 predefined programs that generate low intensity electrical impulses to stimulate the nerve endings in the treated area, effectively blocking pain signals.
The Compex Sport Elite 2.0 comes to the market as one of the most versatile and complete options
to increase the results of physical conditioning and reduce the negative effects of the same through its TENS stimulation technology which allows an adequate management of the odor, reducing the intensity of the same and increasing the mobility and functionality of the muscles.
It includes 10 electrostimulation modes divided into 3 recovery modes, 2 warm-up modes, 1 TENS massage mode and 4 strength training modes. It also has 5 levels of progressive intensity that will help you improve your strength, endurance and combat various ailments caused by exhaustion.
it is so discreet that you can take it wherever you want and use it under your clothes
. Its goal is to help you achieve the body of your dreams, so its avant-garde design was created with all the necessary considerations.
Its operation is incredibly simple: all it takes is 30 minutes of daily use, in 15-minute rounds, to start seeing amazing results in as little as 3 months. The belt does not require gel to work, so all you will have to do is apply water to the pads in order to receive the full effects of electrostimulation.
thanks to its 4 programs of use, 2 for strength training, 1 for recovery, and 1 TENS massage mode,
which will allow you to increase the strength and endurance of your muscles, while reducing the ailments caused by fatigue.
The package includes 12 clip-type electrodes, 4 guide wires, built-in battery and a dust-proof bag so you can take your electrostimulation device with you wherever you go. Its training modes will allow you to increase your endurance and explosive strength, while the recovery modes will allow you to expel lactic acid and reduce aches and pains caused by post-workout exhaustion.
The Compex Wireless USA 2.0 electrostimulation unit gives you one of the best alternatives
to improve the results of physical training, while providing relief from the aches and pains caused by it, through its 10 electrostimulation programs divided into strength training, warm-up, recovery and TENS massage modes.
It is the perfect tool to maximize the results of your workout thanks to its electrical impulses that stimulate the growth of muscle fibers, while reducing and even preventing pain caused by exercise and promoting a quick recovery.
It requires no gel pads and is adaptable for both men and women.
Its electrical impulses will allow you to lose those inches of waist you desire without superhuman effort.
It works by means of a process called cryolipolysis, which freezes fat cells at an incredible 21 °F (-6°C) favoring a rapid loss of fat layers. The visionary concept of the Fat Freezer belt is the first sample of cryolipolysis therapy available to have in your home, making it an indispensable piece of equipment for losing fat and defining the abdomen.
which comes in a very complete kit with all the complements you may need to apply an efficient electrostimulation therapy
. It includes 12 clip-type electrodes pads, guide wires, battery, 1 carrying bag and 1 user's guide.
It also has 5 programs of use focused on different branches of physical conditioning: endurance, resistance, strength, active recovery and warm-up. Proper use of this device will allow you to reach your maximum performance with very little cardiovascular fatigue, and is highly recommended for fitness enthusiasts who frequently engage in competitions.
treating nerve and muscle ailments, as well as a great addition to fitness
. This is because it combines TENS stimulation technology with EMS technology, making it one of the most versatile devices on the market.
It has a 4-channel independent control mode, through which you can treat different parts of the body with different settings and intensities as required. You can select from 24 preset massage modes, each designed to relieve certain types of pain and produce an overall sense of relief.
Video: How to place the electrodes pads to build muscle?
Electrodes for biceps & triceps
Electrodes for shoulders
Electrodes for forearms
Electrodes for pectoral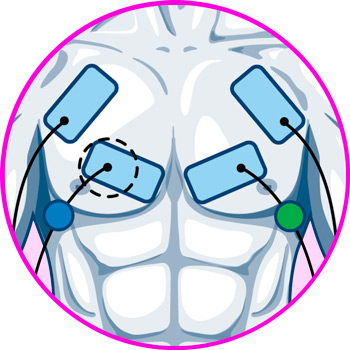 Electrodes for back
Electrodes for thighs
Electrodes for calf
Electrodes for abdomen
More types of EMS electrostimulators and TENS units you should know
Can you gain muscle mass with electrotherapy?
Electrotherapy can help you gain muscle mass and tone your muscles. To do this you must first understand how the muscle building process works, as this is key to understanding how muscle electrostimulation can help you in this task.
Muscles are made up of fibers. When we train intensely and heavily in the gym, and we push a muscle to failure or close to it, which is nothing more than exhausting it as much as possible. These fibers weaken and become inflamed, breaking down at a microscopic level. This damage is known as hypertrophy, and forces the body to generate new muscle fibers over the old ones, which gradually generates an increase in muscle mass.
Of course, it is not enough just to generate hypertrophy to gain muscle, since nothing can be achieved on a biological level without first giving something in return. In this case, in order for the body to have enough energy to generate new muscle fibers, it will be necessary to have a good hormonal balance, and to consume enough proteins or amino acids, which are essentially the raw material used by the body to build muscle.
While electrotherapy cannot do the latter, and you will be forced to change or improve your eating habits to achieve results that will last over time, it can help you generate muscle hypertrophy. For this there is its EMS modality, which specializes in muscle stimulation, being able to generate enough stress in them to achieve the desired increase in their volume.
TENS vs EMS: Which is better for building muscle?
Currently, there are two electrotherapy modalities that have gained popularity over the others. The first of these is muscle electrostimulation or EMS. What this does is to use high frequency currents to stimulate a muscle and generate a contraction, thus imitating the contractions you get when doing a press at the gym or lifting a dumbbell.
Depending on the frequency used, enough tension and stress can be generated in the muscle to achieve hypertrophy without the need to lift 1 kilogram of weight. This occurs because the current maintains the muscle contraction for a few seconds, which is enough to, with each contraction, stress the muscle fibers and thus generate the necessary damage to stimulate muscle building.
On the other hand, TENS or transcutaneous electrostimulation works in a different way. It uses lower frequency currents, which do not influence the muscle tissue, but only the nerves. The main purpose of this technique is to relieve pain, since the currents act on the nerve receptors to increase their tolerance to pain.
Knowing this, it is clear that for muscle building and toning, the most effective therapy is EMS, since it is designed precisely for this task. TENS can be a valid option for recovery processes, but its functions do not affect in any way the construction of new muscle fibers.
Contraindications in the use of electrodes pads and electrotherapy