In the second decade of the 21st century, muscularity and fitness gained tremendous importance; having a sculpted body is synonymous with beauty, success, discipline and above all confidence. However, today's working lifestyle does not leave much time to devote to this task, so many people find themselves at a serious crossroads.
Fortunately, electrotherapy can help to solve this problem. Thanks to EMS currents, you can sculpt and tone your muscles from basically anywhere, and all you need is a power outlet to plug in your muscle stimulation machine. If you want to know how to take advantage of this technology, read on to the end.
How to use EMS machine to achieve muscle hypertrophy?
As you have realized, it is perfectly possible to achieve muscle hypertrophy using an EMS electrostimulation machine. That's why below we are going to teach you the key aspects of this therapy that you should know.
Benefits
On its own, muscle electrostimulation is beneficial, but by using it to achieve muscle hypertrophy you can take full advantage of these benefits. Among the most important we can highlight:
Fatigue resistance: muscle electrostimulation reduces the oxygen consumption of the muscles, which translates into greater resistance to fatigue, allowing you to train at the highest level for longer.
Improves power: by reducing muscle fatigue, you achieve greater speed in the recruitment and activation of muscle fibers, which translates into greater muscle power as they will respond more quickly to the contraction stimulus.
You save time: by training with an EMS electro stimulator you can keep in shape from the office or while doing household chores, which saves you a lot of time going to the gym.
Resistance to injuries: by having muscles that are less fatigued and more powerful, you can be more relaxed as the incidence of muscle injuries will be considerably reduced.
What intensity to use?
For muscle hypertrophy, a frequency between 50 Hz and 100 Hz should be used. The exact number will depend on the size of the muscle to be trained, since the smaller the volume of the muscle, the less intensity it will resist. Therefore, when training small muscles such as biceps, triceps, deltoids or calves, a frequency of 50 Hz to 65 Hz should be used.
For larger muscle groups such as the back or legs, an intensity higher than 65 Hz can be used. However, it has been proven that EMS will be most effective when working locally, that is, when working each muscle individually rather than a broad muscle group.
Best EMS machines to gain muscle and build hypertrophy
Now that you know how to use your electrostimulation machine, you can choose from some of the ones we are going to show you below as they are the best options on the market.
Among the most effective options for muscle conditioning offered by the Compex brand,
the Compex Sport 2.0 electrostimulation unit stands out in particular, designed specifically to promote fat burning and the recovery of muscle fibers, allowing you to tone your body and strengthen your muscles, while promoting physical recovery and relaxation.
It has all the basic functions of Compex electrostimulators, plus the innovative MI technology, which greatly increases the effectiveness of treatment by keeping records of the sessions performed. It is the perfect device for athletes who practice their disciplines between 1 and 2 times a week. It has 7 conditioning programs, 3 recovery massage programs, 6 pain management programs and 4 training programs.
created with the latest EMS systems on the market
, resulting in a revolutionary garment that will maximize the results of your training, giving you visible results in just a few weeks.
Its state-of-the-art muscle electrostimulation system allows for abdominal shaping through the use of precision microdischarges that work each muscle thoroughly. It also has 6 modes of use, each of which has 10 levels of intensity, its ergonomic pads are washable and the included stimulation device is rechargeable.
the muscle groups throughout the abdominal area and stimulates muscle movement through electrical impulses
. You will get amazing results that will be visible in a minimum of three months of constant use.
It is a low-profile garment that can be used at any time of the day under clothing. It has 6 modes of use, each of which has 10 levels of intensity, so you can adapt your workout to your needs, strengthening your body and defining your figure with just 15 minutes of use, twice a day.
It also has the innovative MI technology,
through which you can perform a scan of the muscle and know what frequency is appropriate for the treatment you want, greatly increasing the effectiveness of treatment.
The Compex Sport 4.0 has 10 conditioning programs, 5 recovery massage programs, 8 pain management programs, 2 rehabilitation programs and 5 fitness programs. All these features make it the perfect electrostimulator for athletes who practice their sport 3 to 4 times a week, for injury prevention and fast recovery from injuries.
will allow you to choose between 6 modes of use and 9 levels of intensity
for efficient fat burning and figure shaping.
The electrostimulation pads are washable and the garment is extremely light, compact and portable, so you can take it with you wherever you go. Its 200mAh rechargeable battery with fast charging system allows you to have it ready to use in just a few minutes of charging.
allowing you to burn fat, define your figure and strengthen muscles
in the same way you would do with an hour of sit-ups, in just 30 minutes of use per day.
Its compact, ergonomic and wireless design allows you to tone your muscles without the need for cumbersome wiring, so you can enjoy the results in just a few weeks, using the device at any time. Its rechargeable battery provides several hours of use and its 8 pads stimulate the entire abdominal area for longer effectiveness.
5 fitness training programs, allowing you to increase both the strength and volume of your muscles quickly and naturally
, through electrical impulses that stimulate the growth of muscle fibers.
It also has 5 recovery massage programs, 8 pain management modes and 2 rehabilitation programs, through which the Compex SP 6.0 facilitates rapid physical recovery and promotes muscle relaxation after exercise. It is the best electric massage unit for athletes who practice their discipline more frequently than 3 times a week.
it has 10 modes of use and 20 intensity levels
and does not require the application of gel. Its portability and discreet design ensures you can use it anytime, anywhere.
This stimulator is FDA approved and has passed multiple rigorous quality tests and inspections. It features a built-in battery with fast charging function through a USB interface, giving you a full battery in less than two hours, for more than 30 hours of continuous operation.
so that the electrical impulses provided by the device cover the entire muscle group
, providing impressive results in just a few weeks of use.
Its objective is to provide the user with a quick and easy way to exercise and obtain the aesthetic benefits of an intense exercise routine; with this muscle stimulator, you will obtain the same results as a daily 2 Km run or an hour of sit-ups, without the need to spend time on uncomfortable routines. Its built-in battery offers a very fast charge and an autonomy of 30 hours of uninterrupted one, in addition, its portability and light weight will allow you to take it with you and use it when you feel like it.
that increase strength, volume, tone and muscle elasticity
, allowing you to use it before exercise to improve your performance, and after exercise to facilitate recovery.
It features MI tracking technology, which allows the SP 8.0 to perform a quick automatic muscle scan, and set the appropriate program according to the goal you want to achieve. This professional-grade training device will revolutionize the way you exercise, as it is designed for athletes who practice their discipline on a daily basis.
Video: How to place the electrodes pads to build muscle?
Electrodes for biceps & triceps
Electrodes for shoulders
Electrodes for forearms
Electrodes for pectoral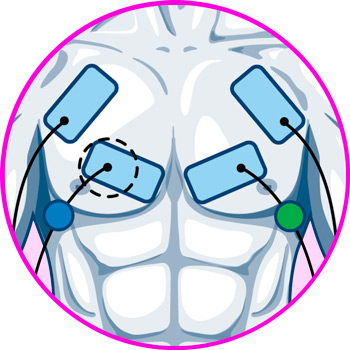 Electrodes for back
Electrodes for thighs
Electrodes for calf
Electrodes for abdomen
More types of EMS electrostimulators and TENS units you should know
Can you gain muscle mass with electrotherapy?
Electrotherapy can help you gain muscle mass and tone your muscles. To do this you must first understand how the muscle building process works, as this is key to understanding how muscle electrostimulation can help you in this task.
Muscles are made up of fibers. When we train intensely and heavily in the gym, and we push a muscle to failure or close to it, which is nothing more than exhausting it as much as possible. These fibers weaken and become inflamed, breaking down at a microscopic level. This damage is known as hypertrophy, and forces the body to generate new muscle fibers over the old ones, which gradually generates an increase in muscle mass.
Of course, it is not enough just to generate hypertrophy to gain muscle, since nothing can be achieved on a biological level without first giving something in return. In this case, in order for the body to have enough energy to generate new muscle fibers, it will be necessary to have a good hormonal balance, and to consume enough proteins or amino acids, which are essentially the raw material used by the body to build muscle.
While electrotherapy cannot do the latter, and you will be forced to change or improve your eating habits to achieve results that will last over time, it can help you generate muscle hypertrophy. For this there is its EMS modality, which specializes in muscle stimulation, being able to generate enough stress in them to achieve the desired increase in their volume.
TENS vs EMS: Which is better for building muscle?
Currently, there are two electrotherapy modalities that have gained popularity over the others. The first of these is muscle electrostimulation or EMS. What this does is to use high frequency currents to stimulate a muscle and generate a contraction, thus imitating the contractions you get when doing a press at the gym or lifting a dumbbell.
Depending on the frequency used, enough tension and stress can be generated in the muscle to achieve hypertrophy without the need to lift 1 kilogram of weight. This occurs because the current maintains the muscle contraction for a few seconds, which is enough to, with each contraction, stress the muscle fibers and thus generate the necessary damage to stimulate muscle building.
On the other hand, TENS or transcutaneous electrostimulation works in a different way. It uses lower frequency currents, which do not influence the muscle tissue, but only the nerves. The main purpose of this technique is to relieve pain, since the currents act on the nerve receptors to increase their tolerance to pain.
Knowing this, it is clear that for muscle building and toning, the most effective therapy is EMS, since it is designed precisely for this task. TENS can be a valid option for recovery processes, but its functions do not affect in any way the construction of new muscle fibers.
Contraindications in the use of electrodes pads and electrotherapy