The joints are the points that allow the body to move, they allow flexing and stretching the joints to provide the maximum range of mobility possible, so regardless of whether you are a highly competitive athlete or an ordinary person performing everyday activities, the joints are constantly subjected to a considerable amount of stress.
It is for this reason that injuries to both knees and elbows, as well as other areas such as shoulders, groin, wrists and ankles, are very common. For situations like these, one of the best options are TENS and EMS electrostimulation therapies, and below, we will show you how to apply them to treat joint pain.
how to use a TENS machine to relieve joint pain?
Whether the joints of the upper or lower body, they are under constant stress, and can be injured relatively easily in contact sports, or high demand.
Therefore, these joints can take advantage of a large number of benefits, among which we can highlight:

Reduction of joint pain: the electrical impulses emitted by the TENS unit influence the nerve endings located in the brachial, radial and ulnar nerves in the arm joints, and the superficial peroneal, femoral, tibial and sural nerves in the leg joints, and their respective branches, mitigating the sensation of pain.
Increased resistance to pain: throughout the sessions, the nerve endings become progressively numb and the patient's pain threshold increases, providing a sensation of relief of variable duration once the session is over.
Nociceptor suppression: nociceptors located in the nerve endings of each major nerve in the extremities are responsible for the sensation of joint pain. The electrical shocks of the therapy suppress these nociceptors, temporarily numbing them throughout the duration of the session and for several minutes afterwards
Relaxation of fibrous tissue: the electrical stimuli cause relaxation of the tendons and ligaments that make up most of the articulation points of the extremities, causing an analgesic effect on the patient.
TENS unit therapies have a large number of benefits that allow the relief of pain in the joint caused by diseases that directly affect them, such as bursitis or gout. However, it is necessary to emphasize that TENS is not a method to heal injuries or cure diseases, but to treat the symptoms caused by them. The application of this treatment in the field of physiotherapy must be supervised by a specialist.
Best TENS machines for joint injury recovery
The effectiveness of TENS therapy for the treatment of pain in general is widely proven, which is why different devices have been created, among which there are machines dedicated to the treatment of joint pain. Among these we can mention the following:
This is because it combines transcutaneous electrical nerve stimulation technology with muscle electrostimulation
, making it one of the most versatile devices on the market.
It has an independent dual-channel control mode, which allows you to treat different parts of the body with different settings and intensities as required. You can select from 20 preset massage modes, each designed to relieve certain types of pain and produce an overall sense of relief.
thanks to its simple design focused on ease of use and its great versatility when applying TENS electrostimulation
, it is designed with an analog operation system that makes it considerably easier for anyone to use it.
Its incredible dual channel function allows you to set different modes of use for dual channels A and B, so you can massage separate areas of the body simultaneously. Its compact size makes it incredibly portable, and it includes a belt clip that allows you to use your electro stimulator whenever and wherever you want.
combining TENS and EMS stimulation technologies
with a dual channel function, so you can treat different parts of the body individually, either to treat ailments of any kind or to stimulate muscle development.
Its transcutaneous electrical stimulation function offers an infallible form of acute and chronic pain relief through electrical impulses that block pain signals and promote the production of endorphins, making it ideal for treating the symptoms of arthritis, sciatica, muscle pain, joint pain and much more.
thanks to its incredible 4-channel function, through which you can apply different modes of use to different areas of the body
. It includes 9 clinically proven training programs and each of them has a predefined duration time of 3 hours.
It uses a combination of TENS and EMS stimulation technologies, which are completely safe and natural methods to alleviate various types of ailments and improve physical condition by stimulating the growth of muscle fibers. It is the best option for long-term management of chronic pain, allowing you to lead a completely normal life and perform all your daily activities.
sciatica, arthritis, and muscle injuries in different areas of the body
simultaneously.
Its electrostimulation method allows you to relieve chronic ailments through the application of mild electrical stimuli that inhibit pain signals and stimulate the production of endorphins. The best results are obtained when using this unit for 60 to 90 minutes. The use of this device is widely recommended because it does not interfere with any medical treatment and is completely safe.
How to use an EMS muscle electrostimulator for joints?
Although muscle electrostimulators are contraindicated for the treatment of joint pain, it is possible to take advantage of a wide variety of benefits when applied to the areas adjacent to the joints, where the muscle groups that provide mobility and stability are located.
Among these benefits, we can highlight the following:

Increased joint stability: electrical discharges increase the strength and resistance of the muscles adjacent to the joints, providing greater stability to the joints. These muscles are the vastus medialis, vastus lateralis, soleus and tibialis anterior in the case of the knees, and the biceps radialis, triceps, radialis, pronator teres and ulnaris anterior in the case of the elbow.
Improved physical performance: by strengthening the musculature responsible for providing mobility and stability to the joints, you will be able to perform heavier tasks with significantly less risk.
Increased blood flow: the heat applied by the electric shocks to the muscle tissue will result in vasodilation that increases blood flow, thus improving tissue oxygenation and nutrient absorption.
Prevention of future injuries: as a result of the increased strength and elasticity of the muscles surrounding the joints, these will be able to support heavier loads with a lower risk of suffering overload injuries.
Best EMS electrostimulators for strengthening joint muscles and tendons
EMS devices provide a great method for strengthening the brachial, hamstring and gastrocnemius muscles, which are in charge of stabilizing and mobilizing the knee, reducing the possibility of injury and improving physical performance in the extremities. To do this, you can use specialized EMS machines, such as those described below:
5 fitness training programs, allowing you to increase both the strength and volume of your muscles quickly and naturally
, through electrical impulses that stimulate the growth of muscle fibers.
It also has 5 recovery massage programs, 8 pain management modes and 2 rehabilitation programs, through which the Compex SP 6.0 facilitates rapid physical recovery and promotes muscle relaxation after exercise. It is the best electric massage unit for athletes who practice their discipline more frequently than 3 times a week.
which contains an incredible 4-in-1 function that allows you to apply therapeutic massage, muscle stimulation, nerve stimulation and heat therapy
, providing a completely different level of relief to its users with its more than 70 programs and 50 intensity levels.
This powerful electrostimulation equipment offers immediate relief for almost any type of ailment using stimulation methods that stimulate the production of natural pain relieving agents within the body. It also works as an effective methods to accelerate muscle growth and regeneration, while combining with heat therapy to provide one of the most complete treatments you will find.
Omron has a wide range of electrostimulation devices in stock,
including Omron HeatTens, which combines the therapeutic effects of transcutaneous electrical nerve stimulation with the effective method of heat therapy, resulting in one of the most complete relaxation and pain relief effects available on the market.
Its operation is really simplified, having 6 preset programs that focus on treating different areas of the body, which you can customize by modifying the 3 TENS massage modes, in combination with the 3 heat therapy modes. It is the best choice for joint and muscle ailments and you will get 1 Omrom HeatTens, 2 Omron gel pads, 1 power adapter and an instruction manual.
It offers the best solution for any type of muscle pain through its electrotherapy massages,
which are a combination of TENS and EMS modalities, which apply low intensity currents to greatly reduce the sensation of pain in the treated area.
It includes 24 modes of use that apply different types of massages focused on dealing with particular ailments. Its lithium battery allows continuous use for more than 20 hours, and has a session timer that can be set from 10 to 60 minutes. The purchase includes 1 mini Plus 24 electro stimulator, 1 carrying case, 6 large electrodes, 2 guide cables, 1 user manual and 1 USB charger.
Massages a wide area of the body with a dual output design that sends electrical impulses through electrode pads placed on the skin
. To relieve pain in back, knees, shoulders, ankles, neck, wrists and elbows, relieve fatigue and stimulate muscles, improve blood circulation, strengthen the immune system and improve sleep quality.
The 50-level intensity allows you to explore for another unique experience, while the preset timer can be easily adjusted from 5 to 60 minutes. Safe enough to relax at home or in the office. Hydrogel with multi-layer technology, reusable 70 to 110 times when used correctly. Built-in rechargeable lithium battery, 10 hours continuous use after a full charge with USB cable.
Video: How to place electrodes pads on any joint?
Electrodes for knee
Electrodes for elbow
Electrodes for wrist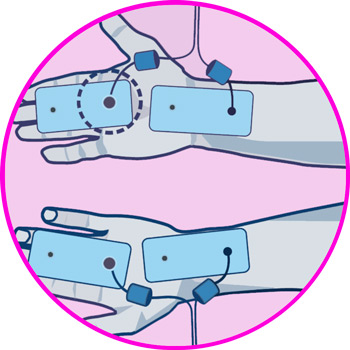 Electrodes for hip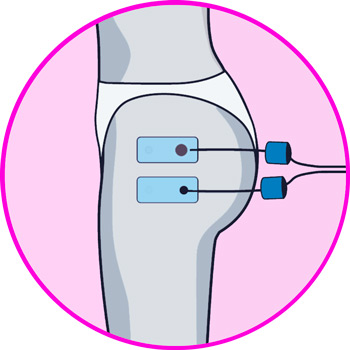 More types of EMS electro stimulators and TENS machines you should know about
Most common types of joint injuries
Joint ailments can occur for a variety of reasons and in various forms. They usually occur in isolation, in one joint at a time, due to strain, overuse or injury. However, certain disorders can cause simultaneous pain in wrists, elbows, knees and ankles at the same time.
Among the most common diseases that cause these effects, we can find the following:

Fibromyalgia: is an ailment characterized by muscular pain and pain in the fibrous tissue (ligaments and tendons). Although it is not a joint disease, the joints are usually points where the pain is concentrated. It does not have a specific cause, although it has been observed that it starts after bacterial or viral infections, or other diseases that limit the quality of life.
Arthritis: is a joint disease whose main symptoms are swelling, stiffness and pain, which usually worsen with age. It occurs naturally over the years as the cartilage that cushions the impact between bones when moving wears out.
Lupus: is a chronic autoimmune disease that can affect various parts of the body, including the joints. Its cause is unknown, although there is evidence of the influence of a genetic factor in the probability of developing this disease. Its main symptoms include muscle and joint pain, fever and hair loss.
Gout: is a common form of arthritis characterized by sudden attacks of pain, redness and swelling. It is caused by an excessive accumulation of uric acid in the joints.
Differences between TENS and EMS: Which one to use for joint pain?
The use of electrical stimulation therapies are highly recommended for joint ailments. However, and despite being similar in many aspects, TENS and EMS stimulation have crucial differences that are necessary to know before starting to apply them.
To begin with, transcutaneous electrical nerve stimulation therapy, or TENS (Transcutaneous Electrical Nerve Stimulation) , is a physical therapy method focused on the treatment of pain caused by injuries or diseases, such as rheumatoid arthritis and others that affect the joints. For this purpose, this technique makes use of low intensity electrical stimuli that interact with nociceptors, reducing the sensation of pain in the treated area.
On the other hand, muscular electrostimulation, or EMS, is a physiotherapy technique mostly applied to physical conditioning and rehabilitation of muscular injuries of mild pain. It consists of the application of electrical impulses directly to the muscle groups surrounding the joints, stimulating with frequencies ranging from 70 Hz to 150 Hz, thus increasing the strength and stability of the joints.
With this information, we can conclude that the best technique to treat joint pain, whether caused by injuries or disorders, is transcutaneous electrical nerve stimulation, since the electrical impulses produced by its devices are designed to suppress the nerve endings of the pain receptors located in the radial, brachial, femoral and tibial nerves, and all their ramifications, thus generating a sensation of relief in the extremities.
On the contrary, EMS therapy is not a method for the treatment of pain, so it is contraindicated to treat the symptoms of disorders such as arthritis. The goal of this technique is to increase muscle definition, strength and elasticity through passive training using electrical shocks that contract and relax the muscles. So although it is not a therapy indicated for the treatment of pain, it offers various benefits for the joints and extremities.

Contraindications in the use of electrodes and electrotherapy